July 20, 2009 – Poetry reading in the synagogue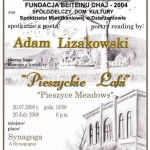 Poetry reading by Adam Lizakowski took place in our synagogue on July 20th @ 18:00. About 130 people attended this event. It shows how important role the synagogue plays in the cultural life of Dzierżoniów.
Click on the image to enlarge it.