April 18th, 2017
Comments off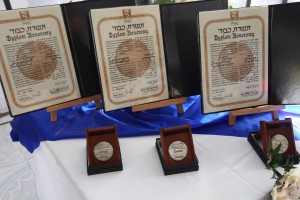 February 28, 2017 was a day of unique ceremony at the Rutika Synagogue. Israel's ambassador to Poland Anna Azari has awarded three medals to the Righteous Among the Nations. Posthumously decorated heroes are:
Janina and Stanisław Kulisiewicz;
Zachariasz Słowiński;
Jadwiga and Stanisław Ostoja-Solecki.
Anna Azari emphasized that although decorations are most often received by the children of the Righteous, it is a celebration of no less importance for both nations – That is our debt, which we still pay back. In Poland there are already over 6700 Righteous. Poles constitute the largest number among the 26,000 decorated with the highest Israeli civilian award given to non-Jews by Yad Vashem, World Center for Holocaust Research, Education, Documentation and Commemoration.